Yuanta CSR Policy
Yuanta strives to provide more diverse and greener financial products and services by establishing a sustainable business model. By spurring an increased focus on sustainability issues through cooperation with our partners, we hope to create sustainable financial services and become an international benchmark for sustainable enterprise.
Yuanta's corporate social responsibility (CSR) policies are focused in seven main directions, each of which plays a fundamental part in the promotion and implementation of the concepts of corporate citizenship.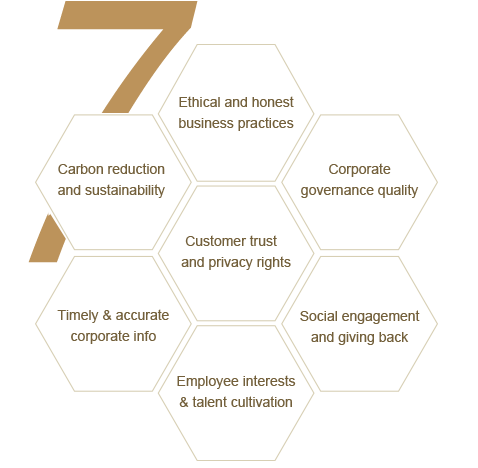 Yuanta Cultural & Educational Foundation
Yuanta considers investment in volunteer work the foundation of its engagement with society and the driving force behind our charitable platform. We reach out in five major directions to bring to bear the collective abilities of the Group, contributing to both large and small communities to support societal development and promote prosperity shared between both the Yuanta and society.
Yuanta Foundation 2018 Expenditures


元大CSR 工作推動中心
元大CSR 工作推动中心
Center for the Promotion of CSR
元大金控於 2011 年成立之「CSR 工作推動中心」,依據 CSR政策之執行方針及利害關係人所關注的議題,在推動中心下組成 8 大功能性小組,涵蓋事務、公司治理、員工關懷、環境永續、公平競爭、社會參與、客戶關懷及投資人關係,各小組皆有主要推動單位依職掌事項執行相關工作。 元大金控于 2011 年成立之「CSR 工作推动中心」,依据 CSR政策之执行方针及利害关系人所关注的议题,在推动中心下组成 8 大功能性小组,涵盖事务、公司治理、员工关怀、环境永续、公平竞争、社会参与、客户关怀及投资人关系,各小组皆有主要推动单位依职掌事项执行相关工作。 In 2011, Yuanta FHC established the Center for the Promotion of CSR, a dedicated CSR promotion unit. Based on CSR policy implementation guidelines, as well as issues of concern to stakeholders, the Center hosts seven main functional workgroups, covering corporate affairs, corporate governance, employee care, environmental sustainability, fair competition, community engagement, and customer care.
本中心之正副召集人皆由元大金控董事長派任,負責督導 CSR相關專案之執行進度,工作會議規定每半年至少定期召開 1 次,並得視需要召開臨時會議,定期追蹤各項專案的執行情形及確保執行品質;而推動單位因實務運作所應制訂之 CSR 相關規定皆呈報總經理核定;且每年定期向董事會報告各項 CSR 相關制度的制訂情形及實施成效,相關規則修正組織異動皆須通過董事會核准,以有效管理及落實本公司之 CSR 政策。 本中心之正副召集人皆由元大金控董事长派任,负责督导CSR相关专案之执行进度,工作会议规定每半年至少定期召开1 次,并得视需要召开临时会议,定期追踪各项专案的执行情形及确保执行品质;而推动单位因实务运作所应制订之CSR 相关规定皆呈报总经理核定;且每年定期向董事会报告各项CSR 相关制度的制订情形及实施成效,相关规则修正组织异动皆须通过董事会核准,以有效管理及落实本公司之CSR 政策。 The Center's chairman is appointed by the Company's Sustainability Committee, and convenes working meetings at least once every quarter, as well as regular follow-up action and quality verifications. The Center reports to the Sustainability Committee on CSR achievements every year and to the Board twice a year, ensuring the effective management and implementation of Yuanta's CSR policies.
CSR工作推動中心組織架構
CSR工作推动中心组织架构
Organizational Structure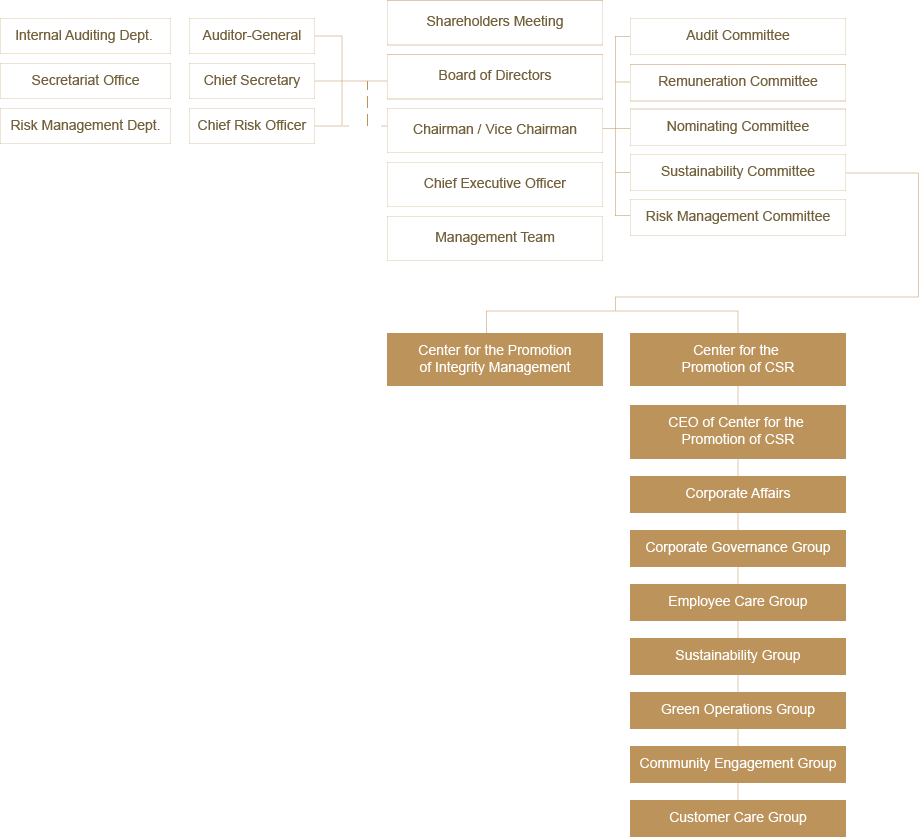 2018 Corporate Social Responsibility Policies and Management Measures
Governance

In an ever-changing financial environment, Yuanta stands out for its operational stability, not only protecting the assets of our clients and shareholders, but helping them achieve stable growth for their investments.

More

Yuanta Futures (3+ years)

Yuanta FHC

Society

Yuanta engages in a wide range of activities for the betterment of society, and strives to raise the level of cultural, health, and living standards in the wider community, thereby embracing our important role as a corporate citizen.

More

Total number of Yuanta Foundation volunteers

Around 2,500 Yuanta volunteers participated in philanthropic work, including a total of 1,982 Yuanta Foundation volunteers.

Number of people benefited from the public welfare engagement

Held 692 public welfare activities over the year, benefiting close to 200 thousand.

Awards

Recognized by the Ministry of Education with a Gold Award for Donations Supporting Education.

Sustainability

Yuanta believes in making all possible efforts to reduce our impact on the natural environment, and therefore seeks balanced development benefitting both our business and the environment.

More

ISO14064-1

In March 2018, all 316 business locations of Yuanta Financial Holdings and its 9 subsidiaries received BSI assurance.

Green Purchasing

Recognized by the Taipei City Government as a Benchmark Business for Green Purchasing for seven consecutive years.

Energy-saving

2017 Taipei City Energy Saving Leader Award, outstanding performance in energy-saving.