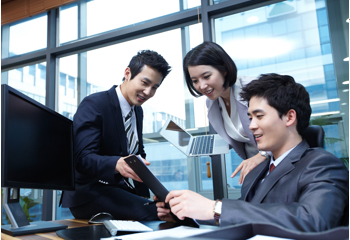 In order to realize corporate strategic and annual goals and strengthen organizational effectiveness, the Group's employees are all subject to regular performance evaluations. Our performance management system is built around a cycle of first identifying goals, then conducting follow-up improvements and revisions, and finally undertaking review and assessment. Performance evaluations take the form of annual reviews of employee performance and setting future career development goals. The results of these evaluations are also used to facilitate human resource management decisions, such as determining employee bonuses, promotions, adjusting salaries, and developing talent.
Assessment items include work performance; professional knowledge and skills; team spirit, communication, and cooperation skills; service attitude; internal controls management; and others. Besides professional and legal compliance requirements, the handling of customer complaints and questions is also an important consideration incorporated into these evaluations.
The Yuanta Group respects the diversity of values in society, and prohibits all forms of discrimination. Performance reviews and occupational development resources differ only in accordance with occupational content, and gender is absolutely not a differentiating factor in any such evaluations. In addition, the Group provides guidance and assistance to any staff whose performance review results are lacking, with 3 to 6 months of guidance provided by direct supervisors, aiming to foster improvement or lead to job reassignment within that period. Should that time end without the staff member concerned demonstrating sufficient improvement, they will be let go or made redundant by means that are in accordance with the Labor Standards Act.
The management of the Company and its subsidiaries review operational performance on a monthly basis, consider domestic and international financial trends and operational challenges, and pragmatically assess and adjust the Company's business objectives, guaranteeing the Company's competitive advantages. The Company and its subsidiaries also use monthly performance review management meetings and a performance appraisal mechanism for chairpersons and general managers, helping the Company to implement its operational strategy and business plans, and fulfill its goal of corporate sustainability.