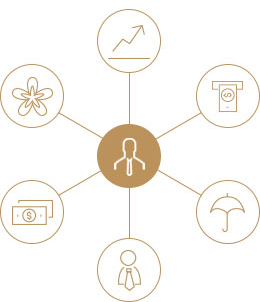 Talent Attraction
Yuanta offers stable and secure work opportunities for vacancies at a wide range of its business locations. As a Company that respects workplace diversity, we reject all forms of differential treatment and discrimination, and are committed to upholding our Integrity Management Guidelines, and setting in place all necessary human resource management regulations. Through a fair and open hiring process, Yuanta seeks out employment candidates with strong communication and coordination skills and a willingness and ability to learn new things.
To provide ample training opportunities, since 2008 Yuanta has actively recruited new talent through its Management Associate ("MA") program, as well as seeking talent to advance the Group's international strategy and the industry trend toward digital finance, leading to a major growth of hiring and training activity in Yuanta's six major divisions: Financial Holdings, Securities, Banking, Insurance, Futures, and Securities Investment Trust. Additionally, Yuanta first opens all job vacancies to internal applicants, and only begins an external search if a suitable candidate cannot be found; as a result, Yuanta's turnover rate is on the low side when compared with its industry peers.
Talent Retention
To motivate top level talent, Yuanta not only offers promotions and salary increases to its top performers, but also views strengthening and developing employees' professional abilities as a major part of its talent retention strategy.
Yuanta Financial Holdings and its subsidiaries have set an operational strategy and short, mid, and long term objectives laying out their employee training plans going forward. In recent years, this has involved preparing future management candidates for important roles, with a focus on international operations talent and the management trainee program. Professional training has focused on Fintech talent, and talent transformation plans in the securities, banking, and insurance divisions. Yuanta Financial Holdings works together with its subsidiary companies to implement employee training and development initiatives, while at the same time strengthening its employee database management abilities, giving the Group a better understanding of its workforce and their developmental direction, and making sure the Group is fully equipped to meet its personnel needs in rapidly developing business areas such as Fintech and international operations.
Furthermore, in response to the Group's international development plans and the transformation taking place in Fintech, Yuanta has not only communicated its plans through internal channels, but has actively promoted its efforts both domestically and abroad, and worked to diversify the professional skills of its workforce. Through a range of initiatives such as organizing training courses, promoting digital finance awareness and knowledge, and industry-university cooperative research projects, Yuanta has helped its employees keep up-to-date on the latest socio-economic developments, acquire new knowledge on the topic of Fintech, and master new skills to ensure that they are ready for the industry's transformation. With these and other programs, Yuanta offers its employees encouragement and assistance on a career-long path of learning and growth of their professional abilities.