Driven by rapid economic development, social development is faced with major changes and challenges, such as the gap between the rich and the poor, the aging of the population and the declining birthrate, the uneven distribution of educational and social resources, and other conditions that affect disadvantaged groups' lives. Although the government provides a certain degree of policies and welfare measures to alleviate this situation, mutual assistance from the private sector and companies giving back can bring more positive responses and support. Due to its business model, for example, the financial industry interacts very closely with customers and local communities. Yuanta communicates with customers to identify the needs of different regions and the difficulties faced by residents in fulfi-lling its corporate social responsibilities. With the Community Engagement Group responsible for building the Volunteer Engagement and Philanthropic Platform, we focus our eorts on five major areas: Underprivileged Children Outreach, Elderly Care, Educational Aid, Talent Cultivation, Community Service. By leveraging the information and resources among subsidiaries, we aim to realize the goal of good interaction and long-term growth in carrying out our longstanding principle of "taken from society and giving back to society".
Guidelines of Social Welfare Activities Management
Social Welfare during the Pandemic─Sparing No Effort to Bring Economic Relief
The impact of the COVID-19 pandemic has affected various industries and industries as well as fundraising efforts of various public welfare organizations. Yuanta Group, however, continues to uphold the concept of "taken from society and giving back to society" and spares no effort in social responsibility. In order to support the disadvantaged groups to fight against the pandemic, in 2020, the Company and its subsidiaries, together with Taiwan Fund for Children and Families (TFCF), planned the "Yuanta Supports Happiness"project and issued the "Stimulus Charity Cash Card"with a total amount of NT$100,002,000 which was donated to 7 social welfare organizations, benefiting more than 100,000 people, to help the disadvantaged groups through the crisis.
In May 2021, the COVID-19 pandemic in Taiwan became increasingly serious, resulting in a strain on medical resources and a severe physical and mental strain on healthcare workers. As a nationwide -financial institution, the Group donated NT$160 million to the frontline medical system in support of the government's efforts to fight the pandemic. Yuanta will continue to leverage the Group's resources, such as its financial expertise, operational base, materials, financial and human resources, to invest in social welfare activities and fulfill its corporate social responsibility.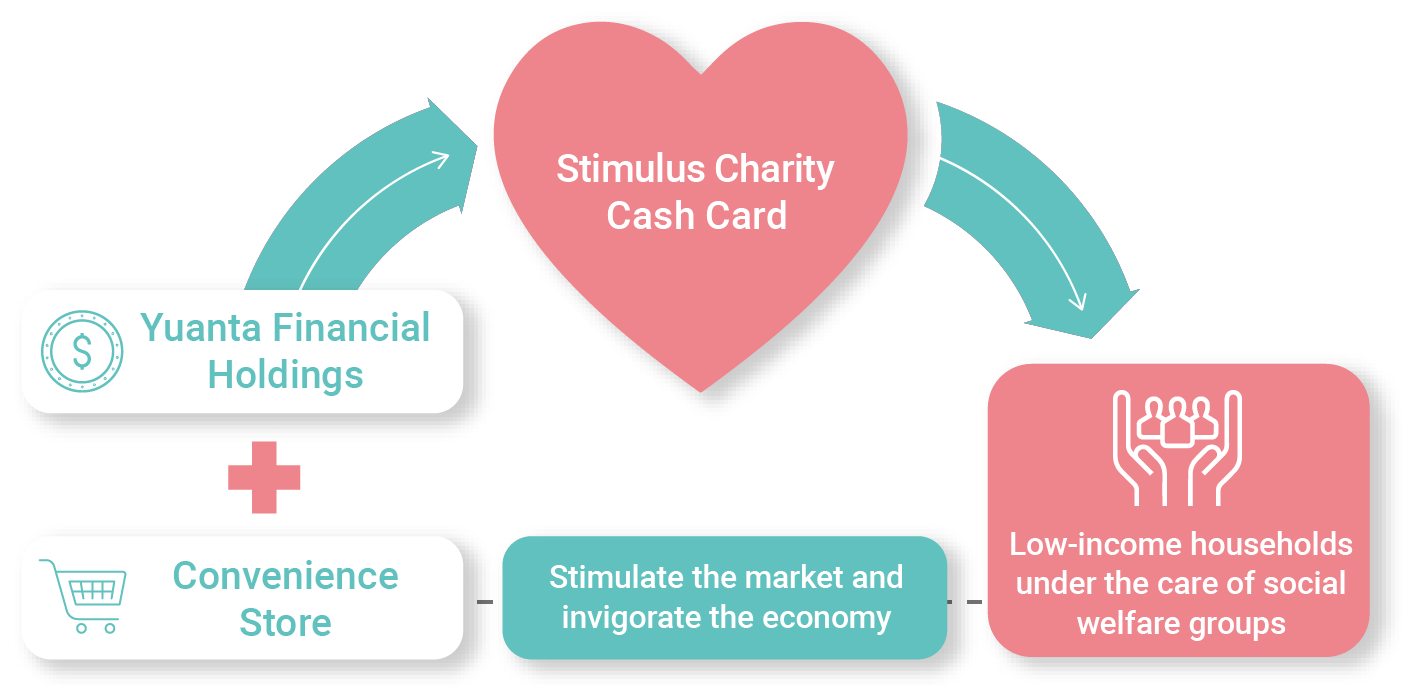 Summary of the recipient's testimonials
A woman from Taichung: her husband has advanced lung cancer and the government's stimulus vouchers issued to their children were used to buy nutritional supplements for their father. They were grateful to Yuanta for providing charity cash cards so that the children could buy meals.
A child from Taoyuan: his mother was unable to work due to a foot injury and with the additional impact from the pandemic, the charity cash card provided timely assistance to the family.
A child from Chiayi: he often skips breakfast because it is too expensive. The charity cash card allows him to have breakfast.
A child from Taitung: they used their cards to buy stationeries they need for school.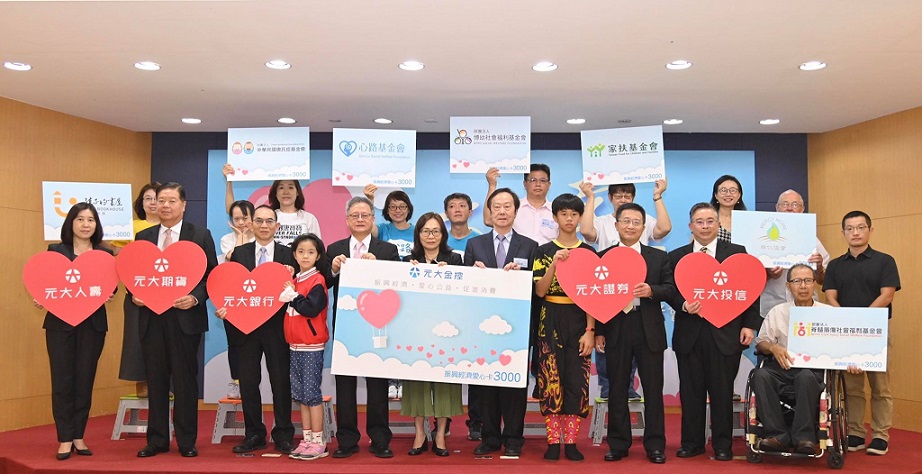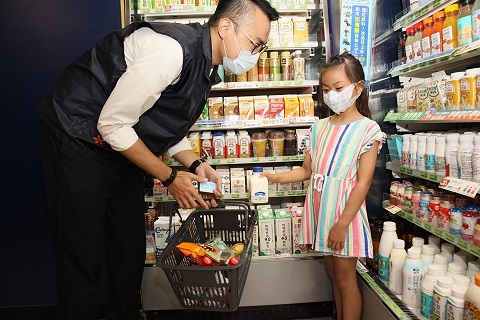 The COVID-19 pandemic has impacted many industries and activities, and distribution of social resources are at risk. In view of this situation, during the pandemic, Yuanta subsidiaries have taken concrete actions such as cooperating with FamilyMart convenience store chain to issue Stimulus Charity Cash Cards to give to charity organizations, Yuanta Bank's relief program, collaboration with Nasdaq to display a public message of support in combatting COVID-19 on TV wall in New York's Times Square, purchased farmer's organic produce, and carnation. These actions were taken in response to government policies to help stimulate the economy. We donated flowers to medical staff dealing with the pandemic. In addition, we donated material resources to disadvantaged groups to help them deal with the pandemic, and show our concern for society.
Group Social Welfare Involvement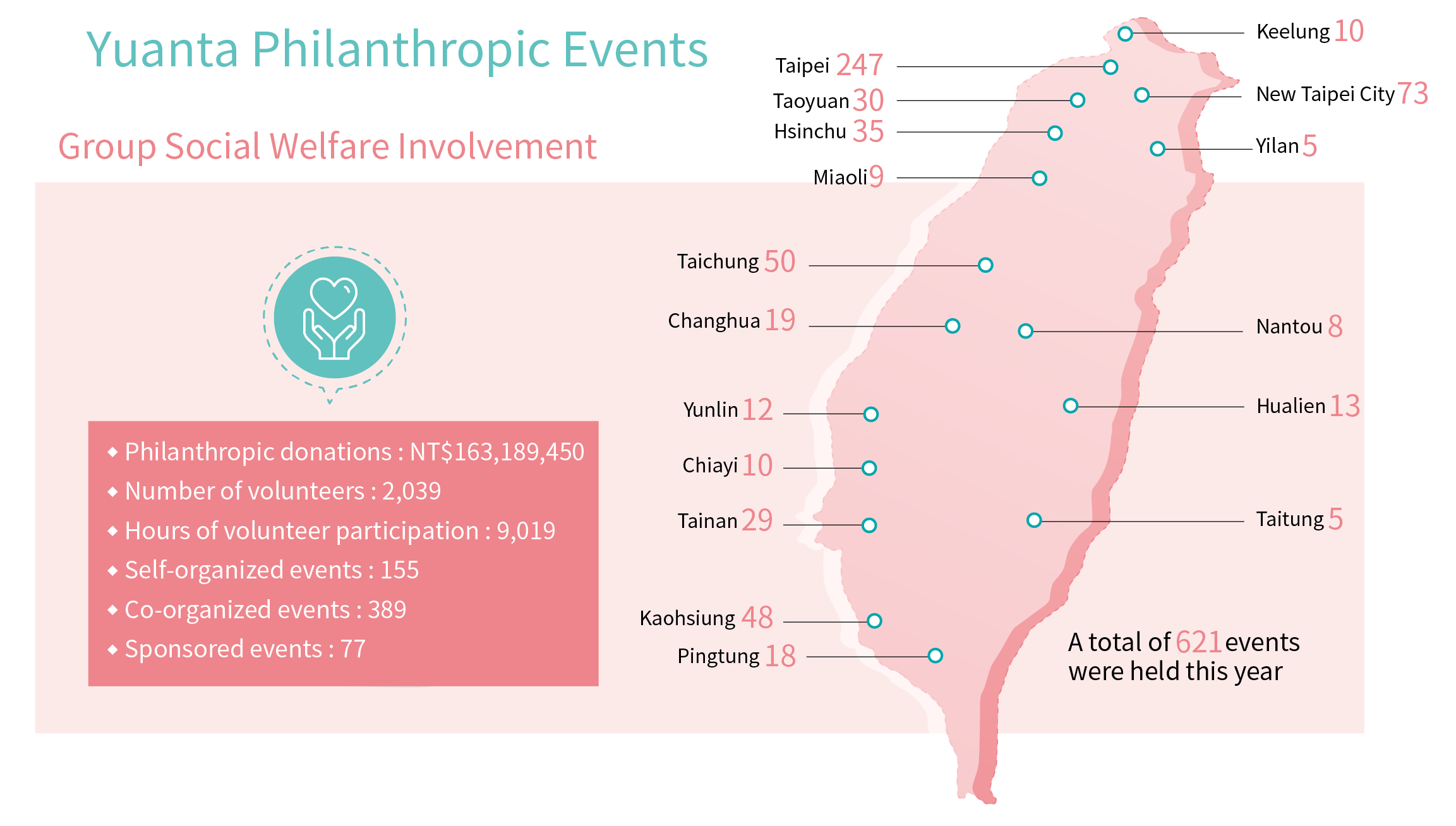 Group Social Welfare Strategy
The Group has been actively supporting social welfare. We focus on the United Nations Sustainable Development Goals "SDG 1 No Poverty", "SDG 3 Good Health and Well-Being", "SDG 4 Quality Education", "SDG 8 Decent Work and Economic Growth", and "SDG 11 Sustainable Cities and Communities". In light of this, we have developed five main public welfare strategies of Underprivileged Children Outreach, Elderly Care, Educational Aid, Talent Cultivation, and Community Service.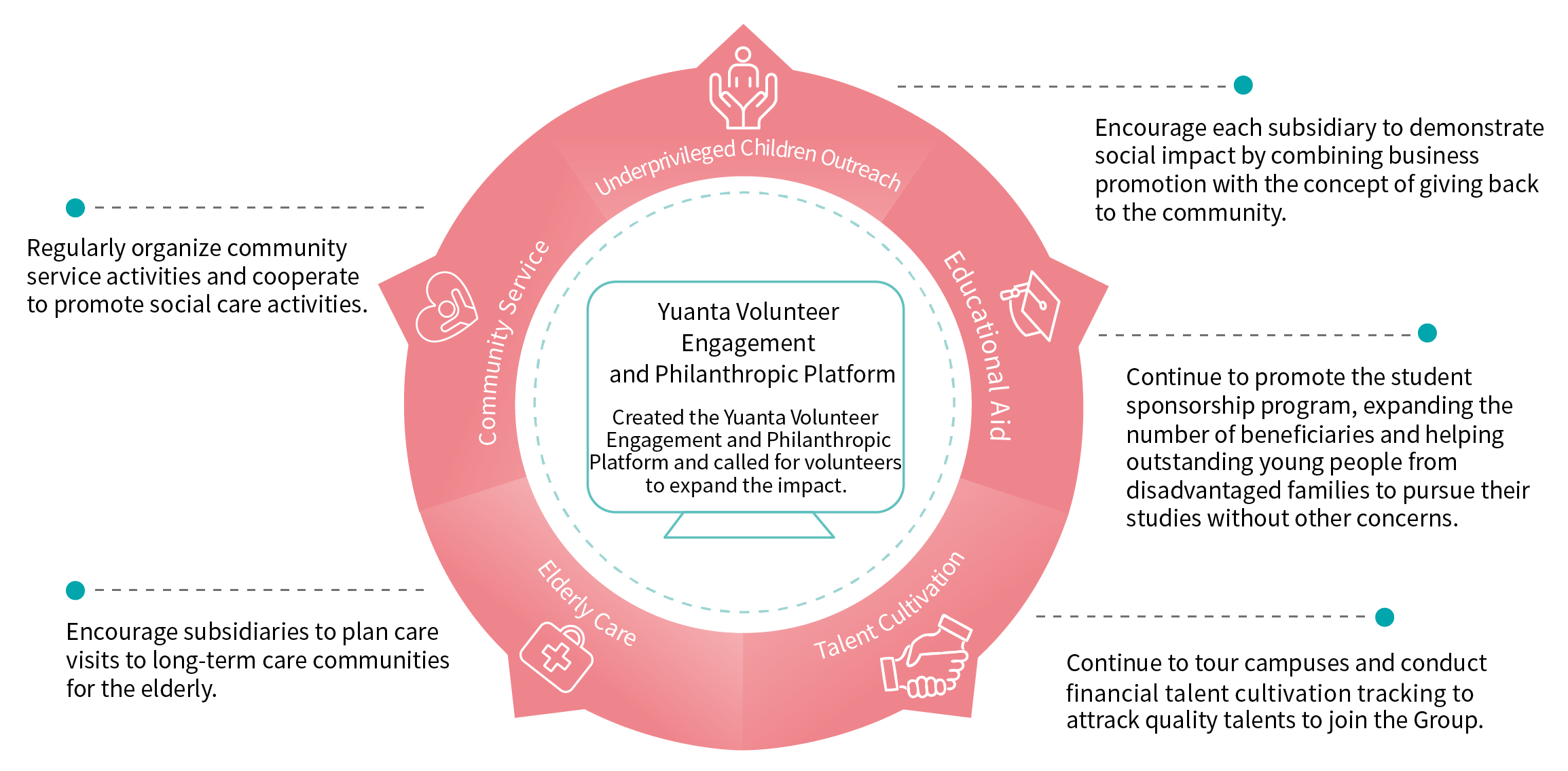 The Company and our subsidiaries along with the Yuanta Cultural and Educational Foundation formed the Community Engagement Group, which coordinates management and use of our collective resources. In addition to giving full play to our financial expertise as well as our strengths, such as the extensive presence and convenience in diversified operating bases at home and abroad, we also combine capital, materials, and volunteer charity platforms to effectively integrate resources. We hope to become a long-term stable partner of social charity organizations and build a sense of corporate identity and social care among colleagues to achieve the shared value of mutual benefit between the Company and society, create social influence, and concretely implement corporate social responsibility.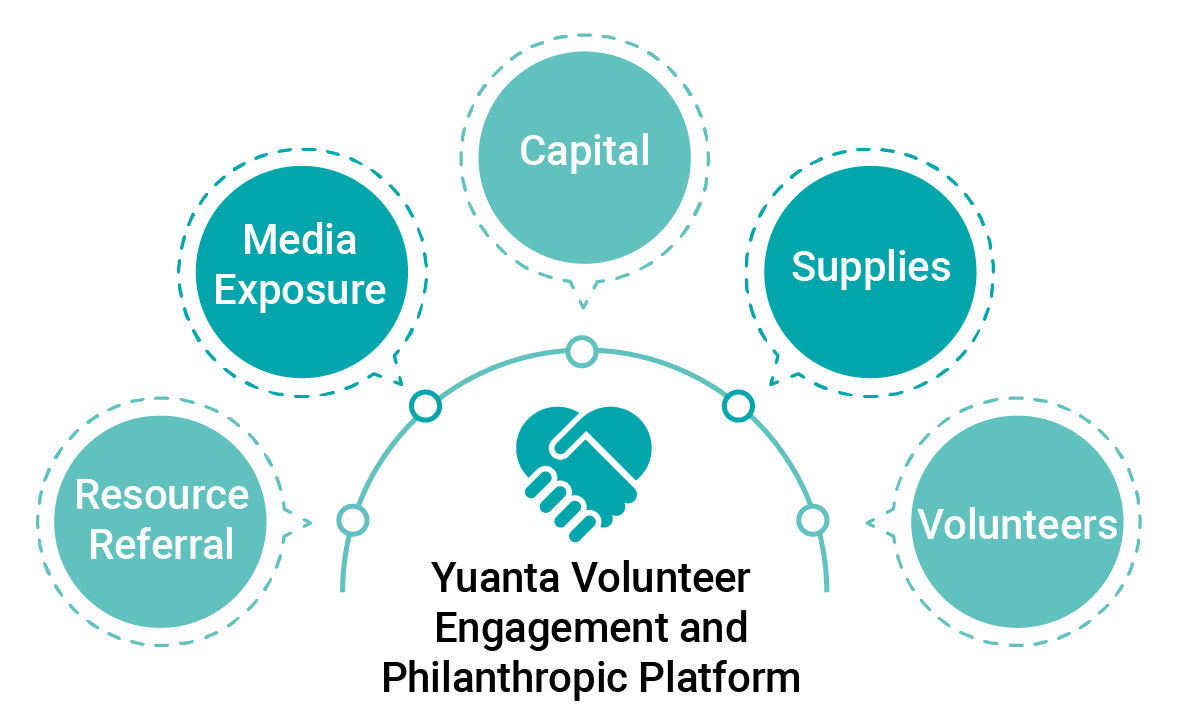 Investment and Use of Funds for Public Welfare Activities
The Group and the foundation refer to the London Benchmarking Group's (LBG) community investment management model and integrate it with our five areas of focus for public welfare to evaluate the overall investment of public welfare resources this year, as a reference for future public welfare strategies.
Donations to Political Parties, Stakeholders & Public Welfare Organizations
| Donor | Date | Recipient | Amount(NTD)/Item |
| --- | --- | --- | --- |
| Yuanta Securities | October, 2022 | Taiwan Fund for Children and Families | 6,800,000 |
| Yuanta Bank | September, 2022 | Taiwan Fund for Children and Families | 2,300,000 |
| Yuanta Funds | September, 2022 | Taiwan Fund for Children and Families | 600,000 |
| Yuanta Futures | September, 2022 | Taiwan Fund for Children and Families | 300,000 |
| Yuanta Securities | June, 2022 | Taiwan Financial Services Roundtable | 875,000 |
| Yuanta Bank | June, 2022 | Taiwan Financial Services Roundtable | 750,000 |
| Yuanta Funds | June, 2022 | Yuanta Cultural and Eduational Foundation | 4,800,000 |
| Yuanta Funds | June, 2022 | Taiwan Financial Services Roundtable | 500,000 |
| Yuanta Futures | June, 2022 | Taiwan Financial Services Roundtable | 375,000 |
| Yuanta Securities | May, 2022 | Yuanta Cultural and Eduational Foundation | 54,400,000 |
| Yuanta Bank | May, 2022 | Yuanta Cultural and Eduational Foundation | 18,400,000 |
| Yuanta Futures | May, 2022 | Yuanta Cultural and Eduational Foundation | 2,400,000 |
| Yuanta Securities | May, 2022 | Yuanta-Polaris Research Institutue | 21,480,000 |
| Yuanta Bank | May, 2022 | Yuanta-Polaris Research Institutue | 7,270,000 |
| Yuanta Funds | May, 2022 | Yuanta-Polaris Research Institutue | 1,900,000 |
| Yuanta Futures | April, 2022 | Yuanta-Polaris Research Institutue | 950,000 |
| Yuanta Securities | June, 2021 | Taiwan Financial Services Roundtable | 875,000 |
| Yuanta Securities | June, 2021 | Taiwan Ministry of Health and Welfare | 20 Assembled Negative Pressure Isolation Chambers |
| Yuanta Securities | June, 2021 | Taipei Veterans General Hospital | 9,000,000 |
| Yuanta Securities | June, 2021 | Yuanta Cultural and Eduational Foundation | 47,200,000 |
| Yuanta Securities | June, 2021 | Yuanta-Polaris Research Institutue | 12,390,000 |
| Yuanta Bank | June, 2021 | Taiwan Financial Services Roundtable | 750,000 |
| Yuanta Bank | June, 2021 | Taipei Veterans General Hospital | 29,000,000 |
| Yuanta Funds | June, 2021 | Taiwan Financial Services Roundtable | 500,000 |
| Yuanta Funds | June, 2021 | Taipei Veterans General Hospital | 7,000,000 |
| Yuanta Futures | June, 2021 | Taiwan Financial Services Roundtable | 375,000 |
| Yuanta Futures | June, 2021 | Taipei Veterans General Hospital | 5,000,000 |
| Yuanta Futures | June, 2021 | Yuanta Cultural and Eduational Foundation | 4,000,000 |
| Yuanta Bank | May, 2021 | Yuanta Cultural and Eduational Foundation | 23,200,000 |
| Yuanta Bank | April, 2021 | Yuanta-Polaris Research Institutue | 6,090,000 |
| Yuanta Funds | April, 2021 | Yuanta Cultural and Eduational Foundation | 5,600,000 |
| Yuanta Funds | April, 2021 | Yuanta-Polaris Research Institutue | 1,470,000 |
| Yuanta Futures | April, 2021 | Yuanta-Polaris Research Institutue | 1,050,000 |
| Yuanta Securities | August, 2020 | Taiwan Fund for Children and Families, Syin-Lu Social Welfare Foundation, Downs Syndrome Foundation R.O.C., Spinal Cord Injury Foundation, Boyo Social Welfare Foundation, Kids' Bookhouse, Mercy Home | 42,999,000 |
| Yuanta Bank | August, 2020 | As above | 45,999,000 |
| Yuanta Futures | August, 2020 | As above | 5,502,000 |
| Yuanta Funds | August, 2020 | As above | 5,502,000 |
| Yuanta Securities | June, 2020 | Taiwan Financial Services Roundtable | 875,000 |
| Yuanta Bank | June, 2020 | Taiwan Financial Services Roundtable | 875,000 |
| Yuanta Futures | June, 2020 | Taiwan Financial Services Roundtable | 375,000 |
| Yuanta Funds | June, 2020 | Taiwan Financial Services Roundtable | 375,000 |
| Yuanta Securities | May, 2020 | Yuanta Cultural and Educational Foundation | 21,500,000 |
| Yuanta Bank | May, 2020 | Yuanta Cultural and Educational Foundation | 23,000,000 |
| Yuanta Futures | May, 2020 | Yuanta Cultural and Educational Foundation | 2,750,000 |
| Yuanta Funds | May, 2020 | Yuanta Cultural and Educational Foundation | 2,750,000 |
| Yuanta Securities | May, 2020 | Yuanta-Polaris Research Institute | 9,290,000 |
| Yuanta Bank | May, 2020 | Yuanta-Polaris Research Institute | 9,930,000 |
| Yuanta Futures | May, 2020 | Yuanta-Polaris Research Institute | 1,190,000 |
| Yuanta Funds | May, 2020 | Yuanta-Polaris Research Institute | 1,190,000 |